Real estate and new home construction demand expected to stay strong into 2021 and beyond.
In March 2020, businesses were shutting down across the country and construction activity ground to a halt as we went into a pandemic-fueled locked. You would never have guessed we would bounce back and have one of the best real estate markets in years. Real estate and new home construction have been an economic bright spot in what has been a dismal, disastrous year for many industries.
Now we look to 2021 and wonder what it holds. A vaccine is on the way, but today the pandemic continues, forcing people to rethink how they live at home and where they live for work. Economic forecasters are looking into their crystal balls and seeing a strong market for real estate and new construction homebuilders into 2021 and beyond.
Homebuyers are looking for more space to work and homeschool from home, and to spread out when the day is done. The vast majority of workers, especially in the local tech industry, are now working from home for the foreseeable future. They are no longer tied to short South Lake Union or Eastside commutes. They can range out and search for a new home in a greater geographic area.
The next generations of homebuyers have finally joined the marketplace. Millennial and Gen-Z buyers are now overtaking Gen-X and baby boomers as the top buyers, especially for new construction homes.
Additionally, new construction homes are more attractive than ever before. The share of new homes as a percentage of all home sales is at it's highest level since 2005. Nothing like a pandemic to create strong demand for homes that have never been lived in. Pair this with mortgage rates that continue to bump along a record low, and demand continues to be very high for new homes.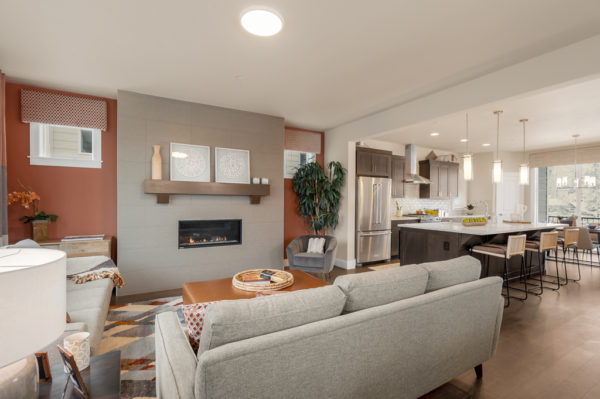 Our client, RM Homes, has currently sold out of all available inventory including pre-sale homes. Upcoming new home communities have been delayed by the spring work stoppage, and related delays in design and permitting. In the meantime, every home that we put on the market for pre-sale has sold quickly with minimal marketing and sales tools needed. We expect that to continue when we launch our next Lynnwood projects, Creekside Grove in January and Dawson Place in February.
How long will the market stay hot? Some forecasts, like from CoreLogic's chief economist, are for continued low mortgage rates and high demand and prices all the way into 2023. He predicts that once the vaccine distribution helps our economy to return to normal, more homeowners who have been sitting tight will put their homes on the market. This will finally loosen the inventory crunch, but home prices will still continue to climb, albeit more slowly than in recent years.
This isn't to say that the housing industry is without challenges. Builders continue to face headwinds looking for available lots and expediting land through the permit systems, plus the continually growing expense of building lots and materials like lumber, and labor shortages that are currently exacerbated by the pandemic. In addition to strong demand, this will all continue to push the price of new homes into the next year and beyond.